Yacht Transit #11 Shayler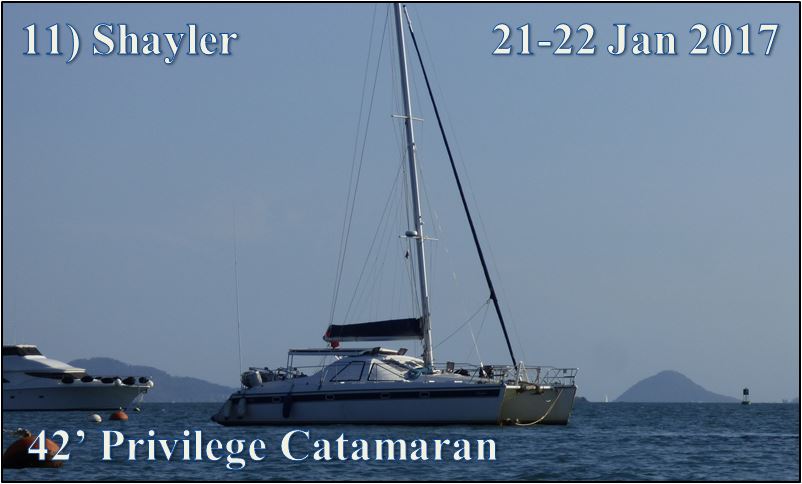 Our transit through the Panama Canal on Shayler
21-22 January 2017 – 42' Privilege Catamaran
Australian Michael, US Kathy and Kirk
Advisors: Larry – Tug Engineer, Francisco
Day One : Gatun Locks
We left home about 10:00 and caught a taxi at the bottom of the hill. At Albrook Russ gave the guy $3 but he demanded $5. When we refused, he got stroppy and jumped out of the car and came around our side. Luckily he couldn't see any of his rip-off merchant mates that usually hang out there, so he decided to protest by stuffing the $3 in Russell's pocket and storming off. No wonder we like Uber!
We were on the "express" bus by 10:15 for the usual wait, which this time was only 15 minutes. 75 minutes as usual to the Rey, then we were in a taxi waiting at the ferry dock by 12:00. The French bridge doesn't look much closer to finishing so the ferries will be a pain for a while yet.
Michael called to say the ACP had brought the time forward an hour to 15:00. We missed one ferry by just a few cars so didn't drive onto one until 12:30 and then we waited some more. Annoying for a five minute ferry ride! We were on the road again by 12:55 and got to Shelter Bay at 13:10.
Michael is solo on his 42-foot cat, Kirk is a delivery skipper and Kathy runs a gaff rig boat in San Blas. All three are very relaxed and hugely experienced, and there were several hundred beers in one of the cabins!
Kirk got us out of the Marina and we headed over to The Flats. At 15:15 the ACP said our Advisor would be onboard at 15:45. One other tiny yacht was at The Flats and we heard on the radio that there was a no-show.
Larry (engineer) arrived before 15:30 and we were off, following our big ship. We thought we were looking good for an early finish but the big ship took ages to get into the lock. We rafted up and then drifted around for more than an hour. At least we were treated to a toucan and the howler monkeys calling.
Turned out that the pilot had been late for work so we watched a crewboat deliver the guy almost inside the lock. It was17:30 by the time we got our first heaving line. The first throw hit our neighbour's tiny solar panel, the second hit the Advisor, and the next guy missed twice.
We got into the lock and everything went smoothly enough. It was funny that Michael pointed out later that Russell and I appeared to be doing nothing while Kathy and Kirk were busy heaving on their lines. Michael stayed very calm throughout, even when a heaving line snagged on the slope and we had to go backwards. Later he said that the young guy on the small boat was doing his own thing with the engines to the point that Michael asked Larry to tell him to cut it out – French, what a surprise!
We were done by 19:00 making it 90 minutes to do Gatun Locks as usual, and we were on the buoy by 19:25. It was hard to find because we didn't expect to see Discovery hanging on one of them, but they have finally put a white flashing light on the other one.
We started drinking with Kathy producing painkillers and lots of well-iced beers. Michael produced a superb pasta made with the enormous marlin the boys caught a few days ago. Kirk showed us the tail which was huge!
As usual I was the last one up with Michael, not sure when we stumbled below.
Day Two : Miraflores & Pedro Miguel Locks : Next to tourist boat
We had a great sleep/coma for some reason. Certainly the first time it has not felt like a furnace and there was not even a fan. Think the cross breeze through a deck hatch and porthole was incredibly effective.
Francisco arrived at 07:15 and we were on our way. Once again the Advisor was early as we were told 07:30! Michael was complaining about me making him drink too much, but mostly we were all much healthier than we deserved to be.
Francisco spent the first few hours reading his newspaper which made it a little bit hypocritical when he didn't like Michael wandering away from the helm. Funny seeing a single-hander's habits on a yacht.
It was a beautiful sunny day which made us grateful once again to be on a big catamaran with plenty of comfy seats in the shade.
We got to Pedro Miguel at the requested time of 11:30 but then we had to wait an hour for the tourist boats to catch up. Francisco was so engrossed in his newspaper that he didn't notice that Mike jumped over the side right where the Canal splits to Cocoli! We thought later that he might just have been trying not to look.
We were in the lock and tied up then we waited some more for the little yacht from yesterday to catch up. They even opened the gates to let him in. Pressure must have been on because he missed his first approach, but he did a great job of circling around and getting it done. The little yacht looked quite comical with six people perched on top and huge ball fenders all around. All six of them were on the side next to the tourist boat so the mast was leaning almost to the railings of the ship.
Although there were two tourist boats in the locks, one full of obvious cruise passengers, we were not even asked "where are you from", not that we encourage it nowadays. Big brim hat and don't make eye contact!
Everything went smoothly and there were not the usual problems with the last Miraflores Lock. Not sure why that was. A headwind definitely helped but maybe it was due to the tide level.
Kirk proved to be yet another experienced sailor that doesn't understand that ropes should be coiled clockwise, so he had a huge fight with the blue line, all the while justifying why it was happening to Kathy who did actually point out that it wasn't right.
By 14:00 we were out of the last lock and the first beers were cracked. We were under the bridge by about 14:25 and waited a short while for Francisco's 'taxi'. Once again we asked the guys if there was a mooring available and got an emphatic no, but then Francisco asked and suddenly we were given one!
We were tied up at a mooring and drinking more beer by 14:50. It is the first time we have stayed on board for a final few beers, then we caught a launch in to the yacht club and went home to the pool.