Admeasurer Inspection
The ACP no longer requires a physical Admeasurer inspection. You now enter all your boat details on their website https://asem.pancanal.com/home.
1.3. Inspection and Transit Request
Inspection must be digitally completed by declaring the condition of the boat and confirming compliance with transit requirements; in addition, it will specify the lockage types that are acceptable and must complete the acceptance of the undertaking to release and indemnify terms for the Panama Canal. Physical inspections may be carried out in some cases that require confirmation of measurements or conditions reported in the application. The regular process doesn´t include a physical visit.
If the ACP decides they want to check your details an Admeasurer will board your yacht with a pile of paperwork, a tape measure, and lots of questions.
Either way, you will end up with a Ship Identification Number (SIN) and a form you need to take to the bank for payment.
An Admeasurement Clearance and Handline Inspection form is issued which is valid for 60 days
There is no separate fee for the form
The form must be reissued for each transit
Vessels must be remeasured after structural changes are made
Admeasurement Office: +507-443‐2298
Waiting time is normally 2-3 days after arrival in Panama
Inspections are completed between 07:00-14:00 local time Monday-Friday
There is a fee for inspections outside normal working hours (at least US$170)
Usual places for the inspection are:
Pacific side: Flamenco Marina or between buoys 2 and 4, La Playita.
Atlantic Side: Shelter Bay or Flats (they have been known to go to Portobelo)
The inspection takes about an hour, although has been known to take ten minutes! Apart from measuring the yacht length, including protruding anchors and dinghy davits, the Admeasurer might (or might not) ask to see:
The mooring lines if they are available (they don't have to be)
Toilet facilities and holding tank
A working horn
Bottled water
The Admeasurer might also ask about:
Manoeuvring speed and ability (eg. catamaran with two engines)
Diesel consumption at preferred motoring speed
Arrival and departure dates at previous ports
Lockage Types
You will be asked what type of lockage you prefer (or refuse), and it will be noted on the 4627 form. Here you can indulge the horror stories you might have heard such as not going alongside a tug or sidewall.
Note that things can change rapidly once you are actually in front of the locks, so refusing a particular method can lead to delays. On the other hand, you can cover yourself by pointing to the form if you are not happy with a suggestion from the Canal Advisor.
The page Lockage Types has more details about the different methods.
The Speed Question
You will be asked what speed you can comfortably make to cover the 27.7nm between Gatun and Pedro Miguel Locks. The ACP would like you to go as fast as possible, but they don't want you to break down!
The reason they ask you what speed you can make is so they can decide what time you need to get underway from Lake Gatun, and then call ahead with an ETA for arrival at the next locks.
If your engine does fail and you delay your exit from the Canal, you could lose your buffer deposit or face other charges for a tow or other assistance.
Sailing on the Canal
You are not supposed to use sails in Canal waters. This stems from a situation where a yacht lost control and ran in front of a big ship. Sometimes an Advisor will allow you to set a sail: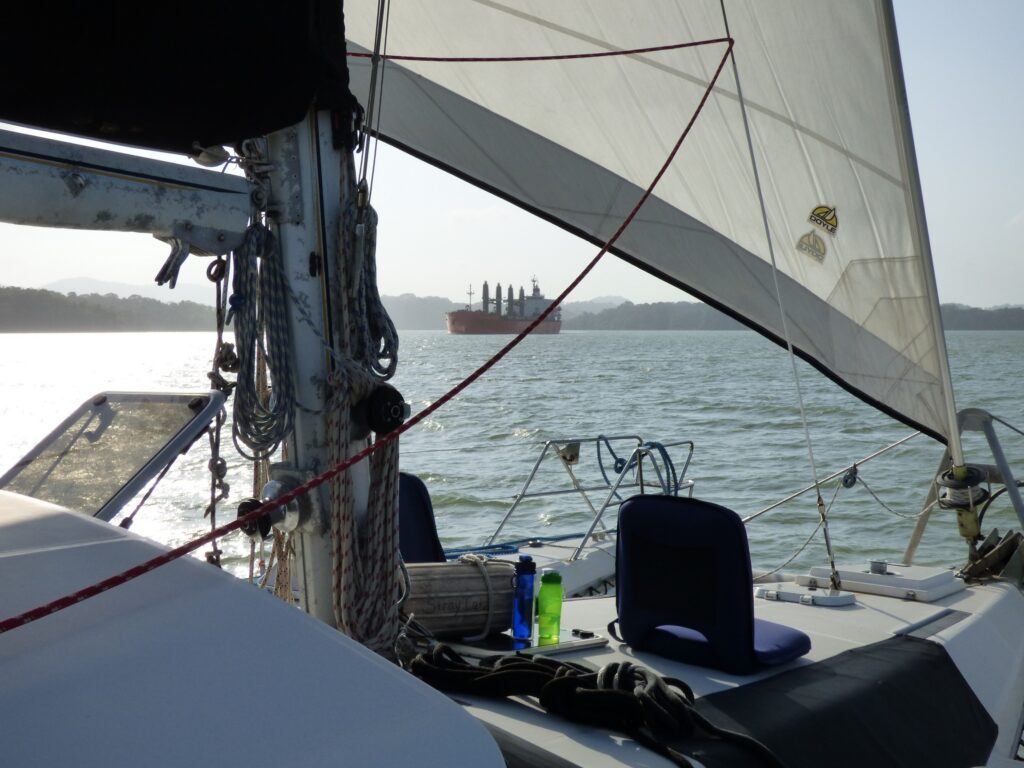 A big ship seeing a sail on the Canal was described by one Advisor as like an elephant seeing a mouse. There is no rational reason for preventing sail-assistance on a transit, other than it freaks out the big ship Pilots.
Paperwork
The Admeasurer will fill out, and ask you to sign, a pile of papers including:
4614 Admeasurement Clearance and Handline Inspection: Required for payment of Canal tolls and fees
Attachment to 4614: to be filled in with your bank information and presented to Citibank when you make your payment – form 4352 outlines what you need
4627 Handline Lockage Request: Type of lockage, a physical description of the yacht, and the equipment required aboard during the transit
4312 Handline Undertaking to Release and Indemnify: Releases ACP from liability in case of any accident, damage or injury, caused by use of equipment aboard the yacht that does not meet Panama Canal requirements
Ship's Information and Quarantine Declaration
You will receive your Panama Canal Ship Identification Number (SIN)
Note that you will probably complete all these forms online as an Admeasurer visit is no longer compulsory.
The Admeasurement Clearance and Handline Inspection form is good for up to six months.
The SIN number is good for the life of the yacht. The card with your SIN number is required to be displayed on the bridge or navigation station and should be turned over to a new owner if you sell your yacht.
Dictionary.com defines Admeasure as: to determine the dimensions, capacity, weight, and other details of a vessel, as for an official registration, documentation, or yacht handicap rating
On to Pay the Fees or back to Preparation