Yacht Transit #14 Papillon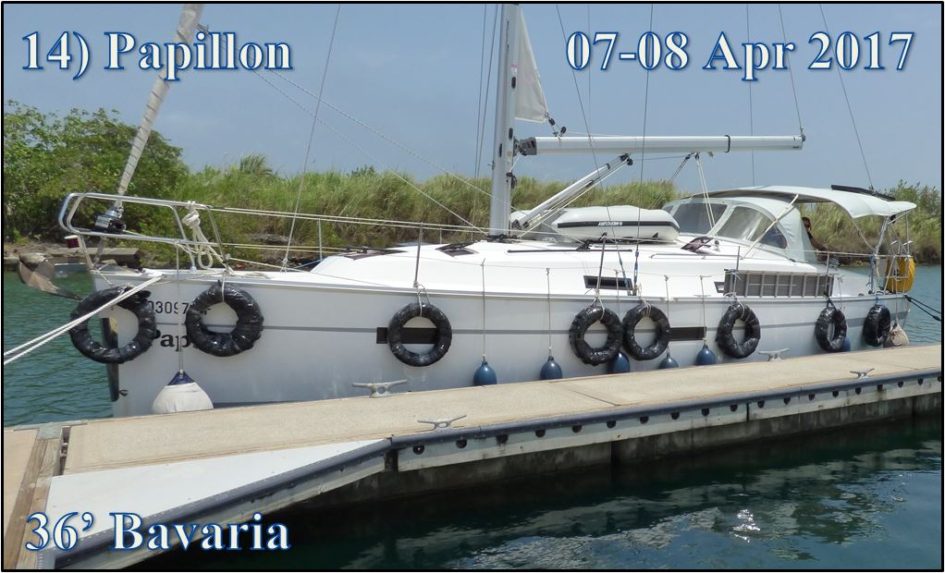 Our transit through the Panama Canal on Papillon
05-06 April 2017 – 36' Bavaria
German Matthias & Katja, Spanish Raul
Advisors : Roy (Engineer), Guillermo (Security)
Day One : Gatun locks : Centre-chamber solo
We had to leave early with the prospect of the ferry delaying the trip to Shelter Bay, so we were on a bus by 08:45. It was only about ten minutes till we were overfull with people standing in the aisles and off we went. The Benghazi movie was playing extremely loudly on a TV that looked about 40 inches. Shame it was dubbed.
We made good time to Colon so were at the bus stop by 10:10, but then we had to wait for Raul who was coming from Portobelo by Diablo Rojo. Naturally he was running late so we found a place to get coffee and wait. I had my book and Russ watched YouTube. Would have been nicer to wait at the Shelter Bay pool but we understand avoiding the extra $25 taxi.
More than an hour later, Raul called to say he'd missed the stop at Cuatro Altos so he would get a taxi and pick us up. Russ suggested outside Rey so we walked the length of the mall, then Raul called again to say he was outside the cafe we just left. For some reason we walked all the way back and were finally in a taxi right on 12:00.
Raul said hello then just chatted with the driver who cranked the radio up which didn't quite drown out his crappy car! At least it was air-conditioned, but then he turned that off when we stopped to wait for the ferry at 12:10. At 12:40, just after an ambulance raced past us, an official drove by to tell everyone there was an accident so we should drive over the locks. We drove straight over Agua Clara, then at 12:50 we had a short wait for the traffic to reverse over Gatun.
About 13:05 we arrived at Shelter Bay where an anxious Matthias was waiting outside the club. Papillon was on the end of a quay and the Marina manager, John, was impatient for them to clear. We were not due at the Flats until 15:00 but as we left by 13:20 we were anchored an hour later. Amazingly it was not too long before a crew boat was aiming straight at us. Roy was onboard by 14:40 and we were off! Roy told us that the delay at the ferry was because a woman fell off! Seems a taxi driver jumped in to save her, but who knows how she managed to fall in.
We were scheduled for 15:45 behind a cable-layer and it was about 16:05 when we took the first heaving lines. Everything went smoothly and we got the lines back at 17:20. Russ and I took it easy on the bow and watched the others frantically pulling on ropes on the stern. Raul later said that it was Matthias giving confusing instructions but once Roy explained in Spanish it was ok.
Tied up to the buoy next to another yacht, with Discovery hanging off the other buoy again, with their noisy generator chugging away. Had a few beers as always, then the yachties were ready for bed by 21:00. We had one more beer and chatted with Raul before heading below. Fascinating to talk with Matthias and Katja about life in East Germany, and how they managed to end up on a yacht in their 40s.
Day Two : Miraflores & Pedro Miguel locks : Next to Islamorada
We had an awful night in a stuffy hot cabin with no airflow. It got so claustrophobic that we went up on deck for some fresh air. Additionally we had a short breast line to the buoy so when any boat wake came past it was snatching badly which was most uncomfortable.
The Advisor was promised at 06:30 so we got up at 06:00 to make sure we could have a bucket shower. Of choose we were still waiting several hours later! Guillermo finally arrived at 09:00 and of course was in a hurry, asking for maximum speed to catch a lockage at 13:30. He spent lots of time on his phone but was chatty some of the time, until he fell asleep (briefly).
We tied up to Islamorada in Pedro Miguel at 13:45 and waited for a car carrier to join us. Russell got suckered into a few questions but at least they passed over a few cold drinks. We started descending about 14:20. It was another hour before we started the Miraflores descent, and we were all done by 16:00
Matthias asked me to help at the stern which is always more interesting. I asked Katja to help but she ran away at first because she didn't understand. I explained again and she was fine. Katja missed the first throw but we managed to get tied off in time, and the next two went perfectly. I even got a compliment from the Advisor, who ruined the moment by effectively saying I did well for a fat person!
We continued to Balboa yacht club and got Guillermo to call and ask for a mooring. It seemed to be ok but for the first time we were not pounced on by the launch. Raul made some more calls and eventually we were told to go to the outer mooring. Matthias and Katja said they had a routine for picking up a mooring by backing onto it, but they definitely had a bad day and spent a long time getting sorted out. Matthias was getting stressed by that time so we were really ready to get off as soon as possible.
Luckily we were home by about 17:30, looking forward to some air-conditioning and a comfortable bed.