Yacht Transit #05 Ondular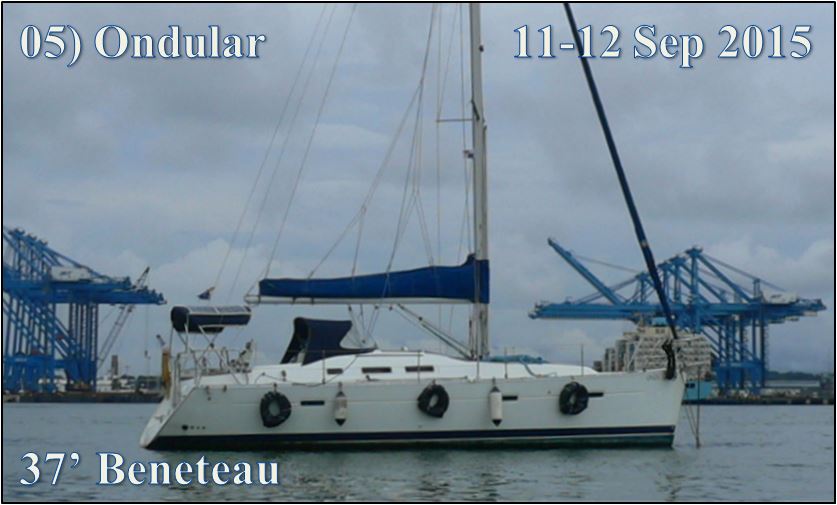 Our transit through the Panama Canal on Ondular
11-12 September 2015 – 37' Beneteau
Australian Michael, Ecuadorian Isabel, US Dale
Advisors: Victor – Security boat, Fernando
"We got really lucky and got in touch with Russel and Diane, a lovely couple, he's Australian and she's kiwi but they now live in Panama city and have done the Canal transit around 5 times. They brought a friend with them and they were such great help. All we had to pay, was their bus fare and feed them while they were with us. It made such a big difference to have such nice and knowledgeable people with us, as it made everything run smoother."
Day One : Gatun Locks
Michael contacted us through the linehandlers website, when Ondular was up in Bocas del Toro. With the two of them on board he asked for three people so we volunteered Dale from The Bridge. We were asked to be in Colon at Club Nautico around 13:00 as usual, so we left The Bridge at 10:00 to catch the bus from Albrook. Michelle picked us up as we were walking to catch a taxi so we started our expedition in comfort.
We quickly found a Colon bus but we were the first ones to board so we had to wait for it to fill up. It was freezing on board which of course suited Dale! Finally we left at 10:55 and the trip took the usual 90 minutes. The price this time was $3.15 but previously we have paid $3.75, no idea how that works.
The first taxi knew where the yacht club was, so for $2.50 we were soon at the weird conglomeration of buildings that constitute the marina. We had to pay $3 each to get in the gate, and then there was a lovely bar, complete with barmaid in extremely skimpy costume, which pleased the boys, even Dale!
It was only about 12:35 but Russell went off to see if the yacht that was anchored off was Ondular, and Michael spotted him and came in on the dinghy. We were on board before 13:00 and soon enjoying a ham roll for lunch.
Michael had been told to be at the flats by 15:00 so we headed off early and were waiting there by about 14:20. Victor the Canal Advisor turned up around 15:40, and immediately told us we were locking up at 16:10. We were actually starting the process at around 16:30, following a big ship in.
Victor was explaining a lot of the process but we were able to help out with the experience that we had. Russell went forward with Dale and I stayed aft with Isabel. Couldn't believe that I had problems with the knot having just shown the others how to do it, and then I had a tangle in the second lock! Goes to show I should take my own advice and take my time and do things properly!
We were heading for the usual mooring buoy when Victor said we should anchor just outside the group of buildings before you get to the new locks. It seemed to be because there was so much dredging activity there, so we were anchored by 18:00. It was immediately obvious that it was to be a rolly night as the crew boats and other vessels kicked up plenty of wake on their way past.
We broke out plenty of beer and wine for the evening and had some pasta for dinner. Sitting in the cockpit we could hear whale-like huffing, which we think were manatees. Looked like about three of them and they hung around quite close to the boat for a while. Such a shame it was dark already.
We were offered showers with the promise of lots of water, which was a first. Guess you get that when the skipper is a plumber by trade!
We had dinner around 21:00, and we were all ready for bed by 22:00. Victor didn't give us a start time for the next day but we were guessing 07:00.
Day Two : Pedro Miguel and Miraflores Locks
It was a fairly disturbed night as expected with the wake rolling in, some rain around midnight, which came in the hatch, and Russell and I sharing a cramped forepeak. Not sure either of us expect a decent night's sleep on these transits.
We got up around 07:00 and Isabel already had bacon and eggs on the go for a sandwich. Way too early for any of us but appreciated all the same (as they ate their fruit and muesli!). A large mug of tea went down well too.
We sat waiting, not knowing a time for the next Advisor to turn up. It was getting hot really early as there was no breeze, and the sun showed it itself more than we expected. We saw some gato solos on the banks, close to the Gatun Yacht Club, but unfortunately the manatees had moved on.
The crew boats didn't start passing us until about 08:15. And it was 09:00 before Fernando turned up. He immediately said that we were supposed to lock down at 13:10, but as Ondular does about six knots, we were not likely to make the 27 nm in that time.
Fernando immediately started explaining the locking process with some excruciating detail, as some Advisors do. I guess it can never be enough when it is your boat and you have never been through before.
We got to Pedro Miguel by 13:30 then were told we had to wait another hour for a big ship to catch up. There was a bit of excitement as we went behind some tugs who were blasting wash out the back, then we had to dodge a tourist boat and go behind a big ship as the side of the lock changed suddenly for us. Naturally the wind picked up just as all this was happening. Michael was obviously stressed but he did well to get it all under control.
We got into the lock and tied up alongside the tourist boat Pacific Queen, which was going sidewall. It was nearly 15:00 before our ship appeared and we could lock down. Amazing watching the 105-foot wide ship squeeze into the 110-foot wide lock chamber.
We untied from the tourist boat and moved to Miraflores where we had to wait once again for the very slow tanker. Jon was on the viewing deck taking pictures, but there was not much activity on board Ondular, since once we were tied up we didn't do anything during the lock descent.
This time the Captain suddenly decided that the way we tied up previously was not good enough so we had to change it. Then when the first lockage was complete he almost motored away before we had got ourselves unmoored. Pretty dangerous manoeuvre really, and then he had to wait for us to catch up, and then the tanker to join us as well. What an idiot!
We were finally out of the locks after 17:00 and it was somewhere around 18:00 before we were enjoying a beer in the yacht club with Jon. The last locks are definitely the painful ones as we just want to get home by then, and it was not helped by Fernando vetoing us having a beer! (Not even sure he has the authority to enforce that, even as we acknowledge the sentiment).
Michael and Isabel were very happy to make it to the Pacific in one piece and they gave us our $25 expenses, and $20 towards a cubetazo which is our best "tip" yet. They say they have friends who are doing the transit with the ARC next year on a big catamaran, so they will put us forward. Excellent!