Yacht Transit #15 Miss Kayo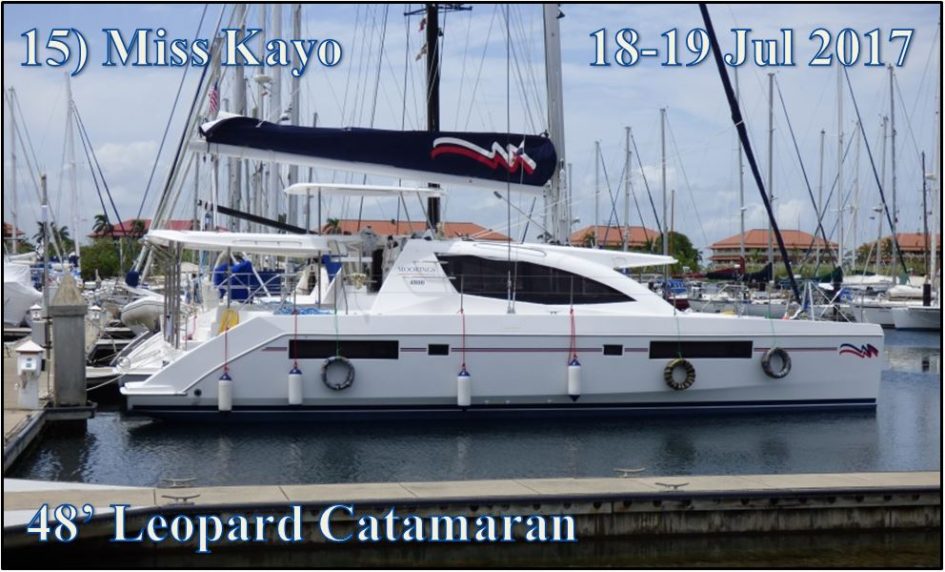 Our transit through the Panama Canal on Miss Kayo
18-19 July 2017 – 48' Leopard Catamaran
Australian Noel & US Bobby, Panamanian Ricky
Advisors : Francisco (Barge Captain), Edgar (Security Supervisor)
Day One : Gatun locks : Sidewall
Uber picked us up around 09:15 and we were on a bus just before 09:30, which departed just after we sat down. The bus was nearly full and every seat was fully reclined, so we squeezed into the very back. Luckily there was a spare seat so Russell could move and sit sideways because the legroom was barely enough for me.
We got to Cuatro Altos at 10:40 and the usual crappy taxi picked us up. He said he had to go to his house first then as we drove through suburbia he started arguing for $30, calling a mate who "confirmed" that was the usual price. We checked on the Uber app and there were several cars in the area so I think that will be the last time we use a taxi. Uber even estimated that it would be only $51 to get home to the city!
The driver was asking us if we had to take the ferry but of course we have not had a consistent experience with that. There were new signs saying that the ferry was in use, but it is still confusing to get to the dock. A big sign tells you where to turn right, but you immediately see a big unfriendly "no entry" sign. We had to wait in a queue for a while, so it was 11:20 when we got on the ferry but we were soon crossing the Canal. At Shelter Bay we used the bathroom then bumped into Noel just as we left the clubhouse at 12:00.
Miss Kayo is a lot of shiny new boat and it was very comfortable sitting in the forward cockpit catching up. Noel was told 16:00 by the ACP but then when called to ask when the advisor would arrive they said 14:00. We left around 13:00 to be ready at The Flats, where the estimate was now 14:45.
It was funny chatting to Bobby as she coiled the mooring lines, as she said she doesn't let Noel touch her lines. I was soon reminded why as he coiled the blue lines anti-clockwise! So bizarre how many yachties do that.
Francisco arrived at 14:15 but said that we had to wait for a ship coming the other way that was running late. Initially he said 16:00 but then we got the call to move just before 15:00. Naturally the rain started as we moved towards the locks, but the plan was for us to tie up to a tug and another catamaran to be outside us, so we weren't looking at being out in it to much – especially with Ricky enthusiastically running around earning his keep. We had to hang around a while for the ship in front of us to get into the lock, so we were not in and tied up until 17:05.
The plan by then had us on the outside of the trio which was even less linehandling, but that soon changed after the other cat tied up to the tug and it was obvious how little space was left!
We were told to go sidewall behind the tug but that entailed the other cat casting off so the tug could move forward. The gates were already closing by the time we were settled. All a good example of why you need four linehandlers, enough lines available to deal with any configuration, and fenders everywhere!
The sidewall part was easy enough despite all the white water, but when the big ship moved ahead the propwash pushed us into the wall pretty hard. The "professional" linehandlers didn't make a very good showing. The young lads on the other cat missed their line throws several times, and our Ricky was too busy on his phone to pay attention to his lines, and didn't notice when we were suddenly being pushed straight at the wall. The bow did connect that time and we left a small gelcoat sample on the wall.
The next two locks were fine but we added a few fenders just to make sure. Russell had the stern line while I was mostly leaning on the wall trying to fend the boat off with some success. We were out of the locks by 19:00 so it was only 30 minutes slower than the usual 90 but it felt like much longer!
It was pretty much dark as we motored over to the mooring buoys, but a nice clear evening. We got rained on a little in the locks but actually it was quite pleasant without direct sun and with some breeze.
Of course the beer coolers were broken open and we proceeded to demolish plenty of Balboa.
Amazing watching a thick blanket of bugs settle all over the boat in the lights.
Day Two : Miraflores & Pedro Miguel locks : Centre Chamber Rafted
Had the usual hot night of broken sleep. Noel did actually turn on the aircon initially, but then he decided it shouldn't run all night. At least it was a good size bunk with plenty of headroom.
I got up before 07:00 to have a cold deck shower which was most welcome. The advisor was supposed to arrive at that time but of course it was 08:30 before Edgar arrived. He told us we were not booked in the lock until 14:30 but we were hoping it might be brought forward so we could make it home to our planned barbeque. Figures that the one time we make a plan, things run late.
It was raining off and on as we crossed the lake but the joys of a big cat are plenty of dry places to sit comfortably, and enjoy tea and coffee. Noel was getting wet at the helm but he wasn't bothered.
At 11:30 we tied up to a buoy at Gamboa to wait a while. Both Panamanians spent the time on their phones – Ricky has barely put his down since he joined yesterday.
Captain Luis went past us on his tug so we waved at each other. He was with a NeoPanamax and heading for Agua Clara so it was looking like a long day for him.
Bobby produced babooti for lunch again which was great. We were just finishing up around 13:00 when our ship came past, so we set off into the Cut following him. At 14:15 we were rafted up with the other catamaran in Pedro Miguel lock, waiting for the big one to pull up behind us.
Everything seemed to go very slowly once again and we were not out of Miraflores until 16:10. Although Roy was Lead Advisor on the other boat, we were a little surprised that Edgar pretty much stayed inside on his phone throughout the lockage. I suppose he was relaxed because we had all done it before but you would think he was supposed to watch everything. There was a bit of shouting going on next door over when to secure lines but everything went smoothly for us.
We had been hoping to get home by about 17:00 to join Laura and the Hatch clan for a barbeque, and that estimate turned out to be correct, but we both needed some time in the aircon to cool off and relax a little.