Yacht Transit #13 Just Dreamin'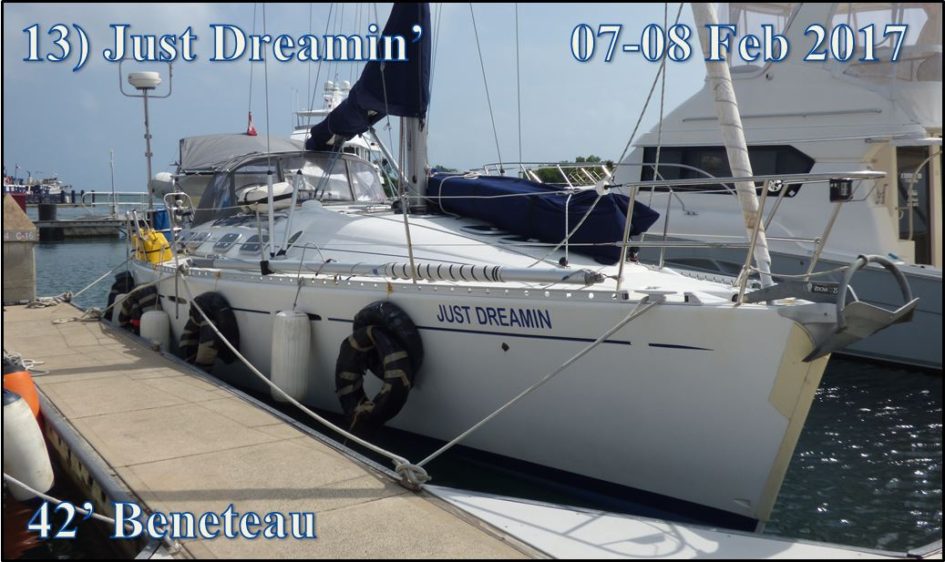 Our transit through the Panama Canal on Just Dreamin'
07-08 February 2017 – 42' Beneteau
Australian Justin & Canadian Loree, Panamanian Luis
Advisor : Victor (Security boat driver)
"We were quite fortunate to have Russ and Dianne as they really made the trip. They were very knowledgeable about the entire process; they're even writing a book on the subject. Their knowledge really helped address our concerns and calm our nerves about going through the canal as this was our first time through any canal, let alone the Panama Canal. They also regaled us with interesting factoids and stories about the canal. They were better than tour guides."
Day One : Miraflores & Pedro Miguel Locks : Rafted with tourist boat and yacht
Gatun locks : Sidewall
The 05:00 alarm was not welcome at all. We got a taxi at the bottom of the hill and since he was obviously playing bus we got away with paying $2. It was still very dark at 06:00 when Justin picked us up in the dinghy, and we had to clamber down the rocks at the end of the causeway. I slipped and drew blood from my finger and ankle but it was not too serious luckily.
Justin and Loree are both engineers, and they worked at Fort MacMurray to get the money for the yacht. Luis is one of Tito's guys.
Victor arrived at 07:15 and said the lockage would be at 08:50 with Islamorada, a yacht and a small cruise ship. They were all heading in by 07:30 so we got the anchor up and followed them.
Everything happened very slowly so it was after 09:00 by the time we were in the locks.
Rotterdam was next to us in the other lane, and we followed the little cruise ship Serenissima in, then Islamorada (Al Capone's prohibition smuggler) went sidewall with the other yacht alongside and we tied up outside them. Two tugs filled the remaining space.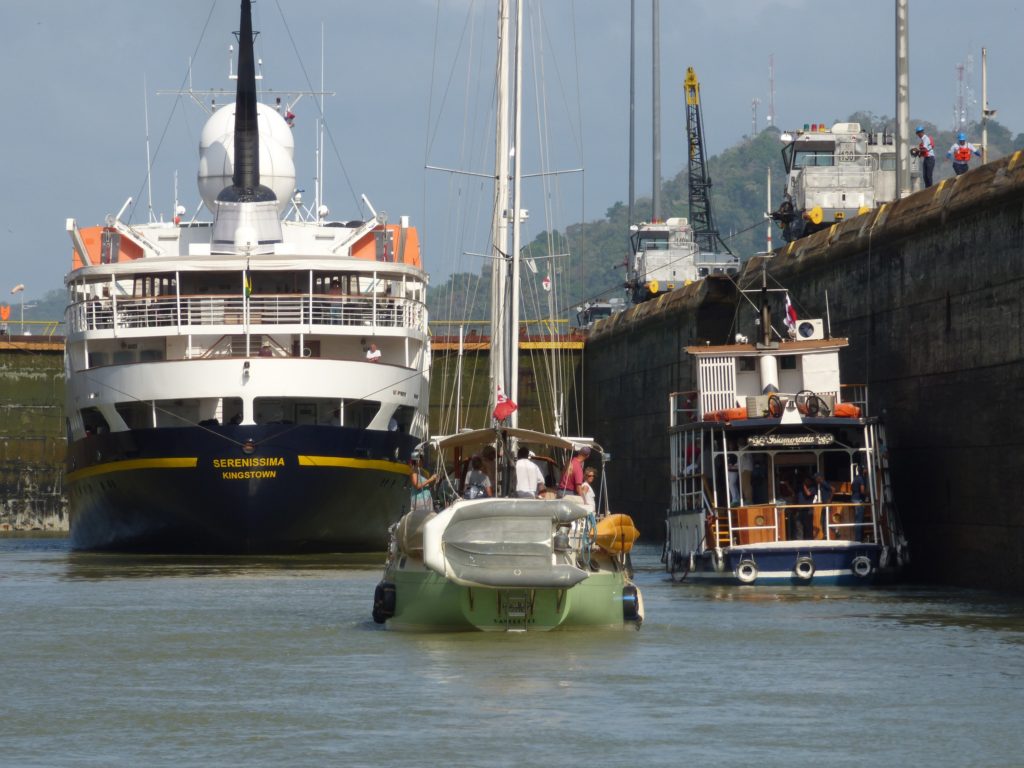 Amazing currents flowing out of the upper chamber and quite a strong breeze funneling in the lock, but all of it was on the nose which is just fine.
We were protected from Islamorada silly questions but I couldn't believe someone yelling from one of the upper decks of Rotterdam 'where do you hail from?'
Pedro Miguel seemed to go very quickly so we were motoring into the Culebra Cut by 11:00. Still really windy and I lost my hat as we exited the lock – unlucky 13th transit! Definitely need to get another one of those for these transits, especially considering how sunburnt I got last time, even under the hat.
Loree produced French toast for a late breakfast, and a bit later Russ and I took turns for a snooze. I came up at 14:30 and we were almost at Gatun, having sped up a bit to try and catch a lockage. The other yacht was not far behind us but they had already been told they would stay in the lake (or perhaps they asked).
At about 15:15 we were on the waiting dock, but only a few minutes later the gates opened. We seemed to wait a long time for the Serenissima to follow us in, but actually it was around 90 minutes for the whole procedure as usual.
We motored out into the Caribbean and started tidying the lines. Luis was carefully coiling them anti-clockwise which explains why they were hard to lay out. Why do so many people not know about ropes!?!
Anyway, another successful transit without the skipper getting stressed. We survived #13 with only the loss of my hat!
The ferries were not running and Victor said they were both out for maintenance. Looked like some progress had been made on the French bridge, but Victor said one of the pylons is sinking so it will be 2018 before it is in service.
We stooged slowly towards The Flats as Victor was eying the all-important 13-hour threshold for his extra pay. The launch came out but it went to a big ship and forgot about him. Eventually he got off and we went to Colon Yacht Club where we anchored by 18:15.
Justin was nervous about the depth so we were right on the edge of the channel and boats were immediately charging past us pushing up huge wakes.
We got settled and were having a beer when Luis appeared on deck with his bag, obviously planning on going home. Poor Justin launched his dinghy and took him and the lines ashore. He thought the tires were going as well but that was not the case. Luis was heading for a taxi and the bus, but we decided to stay on board for the night as they were heading to Shelter Bay in the morning.
Day Two : Club Nautico to Shelter Bay
It was the usual hot night but at least the bunk was huge. The boat wakes were not too frequent during the night and it only rained once. We were up before 07:00 and went on deck to cool off.
Justin appeared and put the water on for a cup of tea. We were talking video games for a while then Loree came up an hour or so later asking for breakfast. Nice banana pancakes, then we motored over to Shelter Bay. The channel is poorly marked and quite shallow in places so it was a good decision not to try it at night. Justin was asking us for directions but we couldn't really say with authority.
We safely got into the berth and went ashore to check-in. We gave a copy of our book to John the manager, then went to the pool. Cooled off for a while then had a beer before catching the Marina bus to Colon.
Another yachtie walked past and said hello, then was complaining about his linehandlers. Seems he had three young Panamanians who giggled their way through the Canal. Luis cost Justin $100 but at least he spoke a bit if English and knew what he was doing.
The ferries were still out of service so we drove in front of Gatun Lock and across the gate in Agua Clara. Very cool, especially for Justin and Loree.
Found out the Marina bus continued to the bus station so we stayed on and were waiting on the bus by 13:30. Around 13.55 another bus pulled up so we left, even with a few empty seats. It was slow getting out of Colon as a train blocked the road so we turned around to try another way. It seems we were on the non-Express bus as we were in Transistmica traffic around 15:15 and didn't get to Albrook till close to 16:00. We were home soon after and at least we didn't have to rush to the pool.