Boat Trip on the Panama Canal
While a transit through the Panama Canal on a cruise ship is a fantastic experience, it can be even better to enjoy the Canal on a smaller ship or boat. Cruise lines will offer several versions of small boat trips on Lake Gatun, and tourist boats regularly make partial transits through the Pacific-end locks.
Tuira II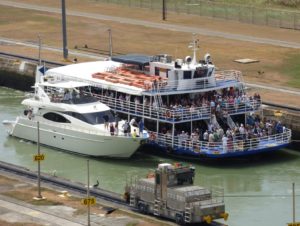 Tuira II (35.8 x 10.82 metres) has capacity for 492 passengers with two large decks. It was built in the US by Willey Manufacturing Co. Cruises are offered by Canal and Bay Tours.
Fantasía del Mar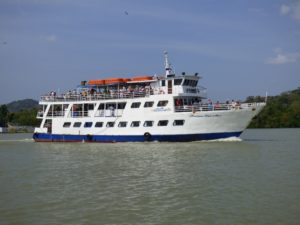 35.66 x 8.69 metres – capacity for 434 people. It was built in Booth Bay Harbor, Maine, USA by Eastern Shipbuilding Corp. Cruises are offered by Canal and Bay Tours.
Pacific Queen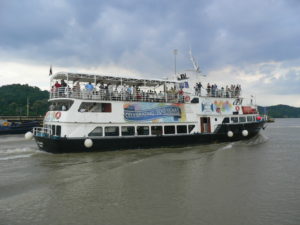 36.3 x 7.6 metres – designed specifically for day tours and cruises. It is a Norwegian built cruiser with capacity for 300 passengers. Cruises offered through Panama Marine Adventures.
Islamorada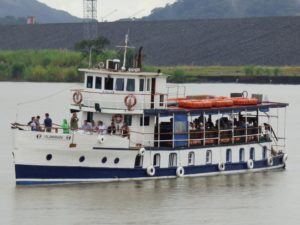 This vessel has a very colourful history and has completed more Canal transits than any other non-ACP vessel. The 94-tonne, 96-foot long Islamorada began sailing in March 1912 under the name "Santana," after construction in a New England shipyard.
One of her more infamous owners was Al Capone who spared no expense fitting out the vessel. She was used as a 'rum runner' transporting rum and whiskey from Cuba and the Dominican Republic to the Florida Keys during the Prohibition era. Following Capone's incarceration in Alcatraz the vessel was requisitioned for use in World War II by the US Navy.
She arrived in Panama in the 1960s to serve as a floating hotel for sport fishing and was later acquired by present owners Canal and Bay Tours, which run Canal cruises three or four times a week.
Gamboa Rainforest Resort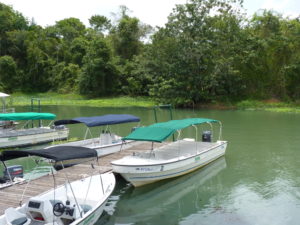 Gamboa Rainforest Resort is worth a visit anytime as they offer many excursions and activities, including boat trips out onto Lake Gatun, and the bar and restaurant are a wonderful place to relax and enjoy the Chagres River views.
Kayaking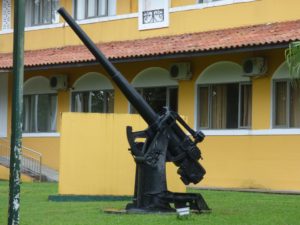 The Melia Panama Canal Hotel used to be part of the infamous School of the Americas, and is right on the shores of Lake Gatun, just a short drive from Colon City. From here you can get out on the lake in a kayak or tour boat.
Fishing
"Catch and release" fishing is offered for Tarpon, Snook, Oscar, Peacock Bass, and the abundant Sargent.
Animal Spotting
However you get out on Lake Gatun there are lots of animals to keep a lookout for, such as monkeys and gators.