Yacht Transit #10 Ceilydh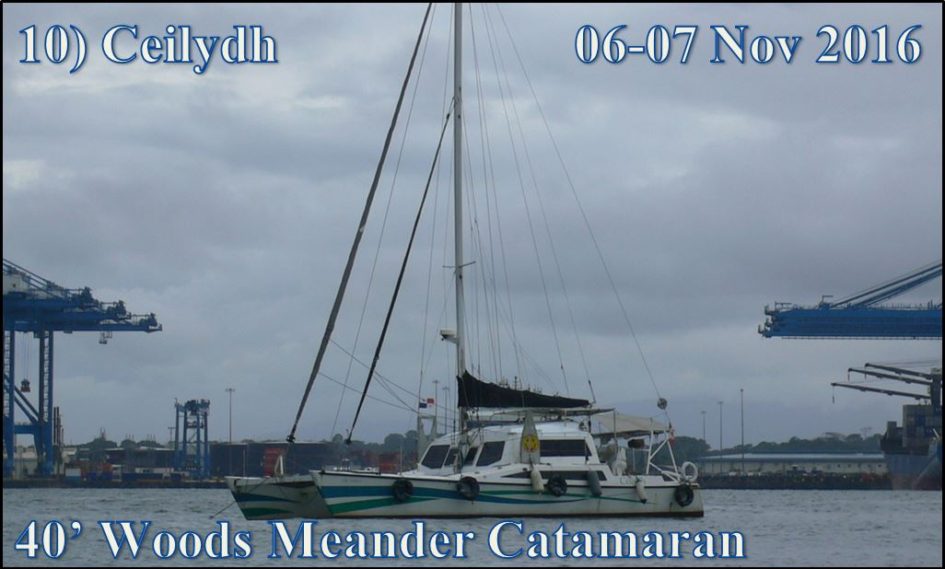 Our transit through the Panama Canal on Ceilydh
06-07 November 2016 – 40′ Woods Meander Catamaran
Canadians Evan, Diane & (US) daughter Maia
Advisors: Moises – Launch Supervisor, Roy – Launch Maintenance
"We were super fortunate to get Diane and Russ (who run the Mad About Panama website), not only only are they self-confessed Canal geeks, but they were great company."
"Russ and Diane were expert line handlers and we felt really fortunate to have them aboard. They've seen all the things that could go wrong and offered tips as we went."
Day One : Gatun Locks
We ordered an Uber around 10:00 but asked it to wait a few minutes as we were watching a sloth with a baby slowly make its way along the fence in front of our terrace! Our first sighting!
We got to Albrook and were on an express bus around 10:15 but as always had to wait for it to fill up. The music was turned up at about 10:50 and we finally got going at 11:05. We made a mistake in sitting at the back of the bus as several young families surrounded us with whining kids, and it was a really bouncy ride.
We were just past Sabanitas when the bus stopped for a while then it became apparent that they were kicking everyone off. We quickly got a taxi and were at Club Nautico waiting in the rain by 12:25. The gate guard let the taxi through which was a bit different to our first visit when we were made to pay to walk in. The club looked closed again but it was just the dark windows so we were able to have a last comfortable toilet stop!
Ceilydh was anchored off the club, which is always a relief and they soon picked us up in their dinghy.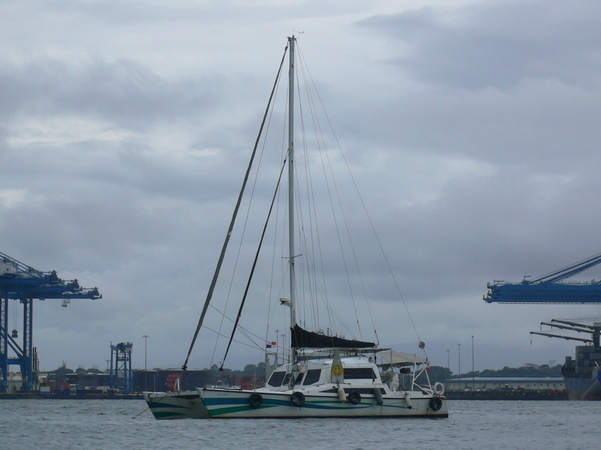 We were to be at The Flats by 14:30 which was updated to 14:45, and Moises actually appeared ten minutes before that. He is the other Launch Supervisor with Amado that we met on a previous transit. We then got a lock time of 16:10 so we had to wait a while before moving. No other yachts around so we were to be centre chamber. Our 'while' turned into hours as we are so used to.
We left the anchorage about 16:45 and it was nearly 18:00 before we were even close to the locks and waiting for our ship, which we would accompany into Gatun Lake.
Just after 18:00 it all started happening. My heaving line ended up caught in the radar mount so Maia climbed up to release it, then we put two lines on the one heaving line as the other one fell short. We only just got settled and the doors were closed and water rushing in.
A good thing learned was that the shore guys like the heaving line attached with a bowline. Another Advisor had said use a clove hitch but we have already seen one of those get cut off.
Some more excitement as we moved forward due to only having one engine. We were inches away from contacting the stern but Diane saved it nicely. First time a woman has driven for us.
The rest went smoothly and we were anchoring by 19:30. Seems we could have gone to the mooring buoys if there was no traffic in the new locks. Anchoring in 60 feet is not ideal but there is not much choice off the Gatun Yacht Club, especially when the lake is at flood level.
Moises' launch came quite quickly and then we sat down for lasagna. They had got beer in for us but there was also wine, and Diane was happy to have someone to drink a single malt with her.
Day Two : Pedro Miguel and Miraflores Locks
Bright sun woke us up but it was not long before rain moved in. We forgot to ask what time the advisor would turn up but it was not 07:00! Several tugs and crew boats blasted past us within about 20 feet, pushing out an enormous wake. Diane leapt for the scotch bottles which had been left on the table – as you do on a catamaran! Charlie the cat was most unimpressed.
Roy arrived at 08:40 and as always wanted to be doing five knots immediately. He said he works in maintenance with the launches on the Pacific side. Once again I was impressed that he was told that Diane is the Captain. Very funny seeing the crew on the launch dressed in cheap ponchos.
The rain just got heavier through the morning and the cockpit had very little seating, none of it dry, so I took the watch seat inside. Perfect to recline on a couch and be able to see out of all the windows. Poor Diane was very exposed at the helm, and Russell got quite soaked before finally coming inside. By mid-morning it was torrential and squally, and visibility had closed right in.
We were hugging the buoys to starboard when a ship loomed into view that looked to be diagonal across the channel. Lots of chat on the radio and then we saw him drop anchor, and we had to go quite a way out of the channel to go around him. Several more ships were stopped behind him, and presumably the car carrier that we were scheduled to go through with was no longer following us.
The rain was just relentless, and Diane eventually came inside to get her wet weather gear on. They had a system set up to collect rainwater and the tank was soon so full that we slowed down, so we had to run taps for ten minutes to reduce the weight. Not a common problem on yachts! I was very much enjoying being sprawled out on the couch and staying dry, and the cat stayed on one of the bunks for the entire day! Seems he is not impressed by the engine running or the rain.
Roy came inside to change into a thermal top and said he had not seen weather like this in many years! When it was announced that operations had stopped due to the rain he said it was only the second time in ten years for him.
Around midday the rain hinted at easing off a bit, but Roy pointed out that the next issue might be fog. At least the Canal was moving again by then.
We passed under Centenario Bridge around 13:45. The rain had eased briefly but then it closed in again. The plan by then was to tie up next to the tourist boat so we idled around and waited for him and the big ship to catch up. Around 14:10 we moved into Pedro Miguel and tied up. The car carrier appeared closer to 15:00, and we were soon descending.
I asked Roy about why we tie up to the land side of the lock rather than the centre wall. The very sensible explanation is that should something happen, people will be able to evacuate onto the land rather than an island.
Very cool that just before we started going down a whole lot of grey RIBs with flashing lights moved into the west-side chamber next door, followed by a huge US submarine! They were in all the locks with us and we got quite a good look. Lots of big machine guns on the small boats!
Miraflores worked out to be calmer than some of the transits we have done, with the currents not too strong. When Diane was driving us towards the tourist boat in the last lock, once again the Advisor was telling her to have the engines going ahead rather than astern, which is very counter-intuitive when you are approaching the solid object you want to tie up to at several knots! Fortunately Diane did as advised, and Ceilydh made the approach straight and under control, albeit unnervingly quickly!
As we made the approach, Roy came over to me and said several times "don't miss" the line throw, before he couldn't help himself and took the rope off me to throw himself. He made a very valid point that he often puts a second person at the stern to be ready with a second line to throw, and then he redeemed himself (slightly) by saying that I had done well enough not to warrant that!!
Also interesting that in the last lock we tied off the lines and were standing off the tourist boat by around six feet. Roy said to leave it like that, and the ropes did indeed stay taut throughout the descent.
We were done with the locks before 17:00 and managed to get a launch fairly quickly at Balboa Yacht Club. Not the usual guy and when we asked how much he said $3 each which is much more reasonable than the $25 we have been quoted before!
Usual short walk home for a much-needed hot shower.