Yacht Transit #17 Bucephalus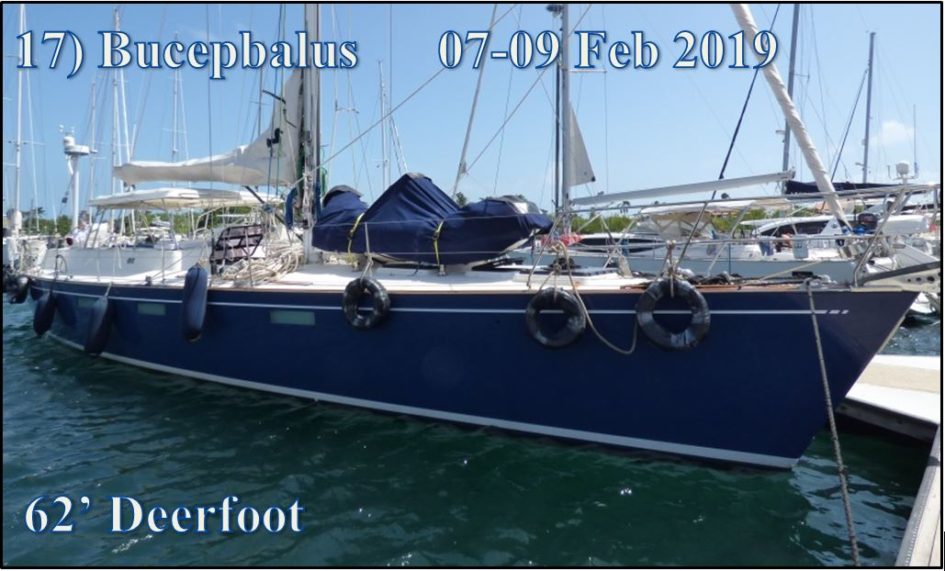 Our transit through the Panama Canal on Bucephalus
07-08 February 2018 – 62' Deerfoot
US Kirk, Mike, Adam & Laura
Pilots : Victor & Carlos
Day One : Gatun locks : Tied to Sea Shepherd & Supply Boat
Russ saw Bucephalus on the panlinehandler.com website and realized that it was Captain Kirk delivering a 62 foot yacht so we got in touch. He said he had crew already, but then rang back a short while later to say that he wanted us to join as well. The night before we joined he messaged to say that there was no red Balboa at the marina (crisis!) but we said we would be happy with anything except Heineken.
Kirk said he needed to calibrate the autopilot so we should be there early, so we were in an Uber by 08:45 and on the bus by 08:55. It was a double-decker which was very nice but we did suspect that might mean a longer wait as they tried to fill it. Fortunately we were wrong, and we were underway by 09:10. Funny seeing a guy bring a squirrel on board with him.
Seemed a quick trip as we were off the bus by 10:15 and looking for transport. Checked Uber but no cars were available, so we caught a taxi and joined the ferry queue at 10:35 for the usual wait. One big ship went past but it was hard to see why we had to wait 40 minutes. No wonder the taxis now want $30 to take you to Shelter Bay.
We got there by 11:50 and found Kirk on the boat. He was soon busy trying to work out how the boat was likely to handle since he had never driven it before and we were about to try and clear the narrow marina quays in 35 knots of wind with no bowthruster! After an hour or so we backed out of our slip and immediately realised the boat was not going to turn into the wind, so we had to kind of crab backwards towards the channel. Kirk was doing great until he unfortunately missed a gear and we bumped our stern into the front of a catamaran. Just some gelcoat damage luckily as it could certainly have been a lot worse.
We parked again on one of the outer quays so Kirk could go to the office to report the incident. The wind was still 35+ so once again it was impossible to get the nose onto the wind. We ended up reversing all the way out of the marina and turning around later. Amazing to see 2-3m swells rolling in through the breakwater entrance.
We stooged over to The Flats where five other yachts were already anchored, but they were not looking like transitting. We motored in a few circles while Kirk kept learning about the boat, then we tied up to one of the big mooring buoys. Our 15:30 schedule was pushed back to 17:45 so we had a few hours to kill. Russ went for a snooze but it was nice in the breeze so the rest of us stayed up top and chatted.
Adam is a builder from Boston who has been getting plenty of sailing though crewseekers, with some impressive oceangoing time, and Laura is his girlfriend who runs a big pre-school in the US. Mike is from Puerto Rico who until recently was doing IT in New York, now living on his own boat considering how to make it permanent.
Victor the Pilot arrived at 17:30 and we set off behind a big ship, a small supply boat and Sharpie which is a Sea Shepherd boat. We are more than 60 feet so we get a Pilot instead of an Advisor. Victor said the plan was for us to tie up to one of the smaller boats, which sounded good because the lines provided by the agent seemed a bit short to us. He also said we would be continuing on the transit rather than stopping on the lake which is not so good for our party plans!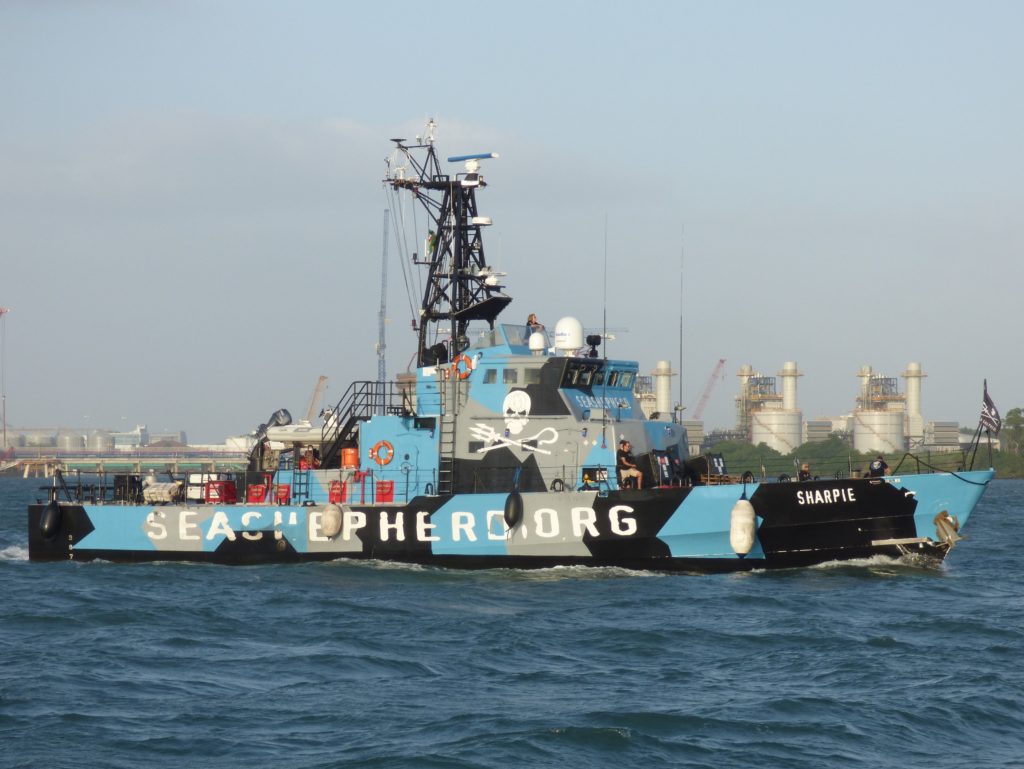 Our big ship took a long time to get into the lock and then the two others had to get secured so it was 18:45 before we were heading into the first lock. We tied up to the hippie boat for the first chamber. We got alongside ok then as we went up they were using their engine to stay in place which was slinging us around a bit, and their exhaust was blowing straight at our cockpit. Think the latter reason was enough for Victor to decide to use the other boat next time.
That was a whole other experience as their deckhands made everything complicated tying up, and then they forgot to tend their lines as we went up. Eventually we realised that some of them were very drunk! So much for an American flagged vessel being good to work with. Poor Russell worked up quite a sweat doing the "easy" job on the bow, and I exercised a bit running fenders around. Tying up was such a fiasco I went to Victor to tell him how we should fix it and he quickly agreed.
Finally we were heading out of the locks by 20:05 and off across the lake. Victor said that we were stopping, but because we had a pilot we had to get close to Gamboa so that we only need one pilot tomorrow. Around 22:45 we were tied up to the big mooring buoys opposite Gamboa. Russ and I had started on the beers after we cleared Gatun, and Kirk had a couple with us before we all went to bed around 00:30. Kirk had had a very long day at the helm, especially after the incident as we were leaving Shelter Bay.
They were having alternator problems so had run the generator for a while, and Kirk had thought to put the aircon on which was wonderful! We had the master suite with a huge comfortable bed and plenty of fans. Lovely!
Day Two : Miraflores & Pedro Miguel locks : Centre Chamber Solo
Easily the best sleep we have had on a transit and we didn't have an early start. Got up about 07:45 and had a very quick shower, then went on deck where we were soon presented with a plate of scrambled eggs. The Pilot was not expected until 10:30, and he didn't appear till nearly midday.
Captain Luis stopped by on his tug to say hello. He actually called over the intercom "Get off my mooring" which had the boys worried.
Just an hour to Pedro Miguel where we were the first to arrive, with two catamarans right behind us and no sign of a big ship. We tied up at the entrance to the lock and waited.
Russell finally spoke up about our concerns that the lines were too short so we rigged an extension on one side. We were planning to work the bow together but then Kirk decided he wanted me on the stern. Fine by me – more space to work and in the shade. Even the white decks were starting to get hot in the sun already.
We moved into the lock about 14:15 by which time we could see the car carrier that was to join us. Lots more waiting and we were eventually on our way. Pedro Miguel was easy enough then Kirk wanted Mike back on the stern. Seems despite owning a boat and being delivery crew he couldn't tie a bowline so Kirk wanted to make sure he learned! Not too bad on the bow except that neither of us are in shape for so much bending and pulling. We were finally done with it all at 16:55 and heading to the yacht club. Saw a huge crocodile just outside the last lock.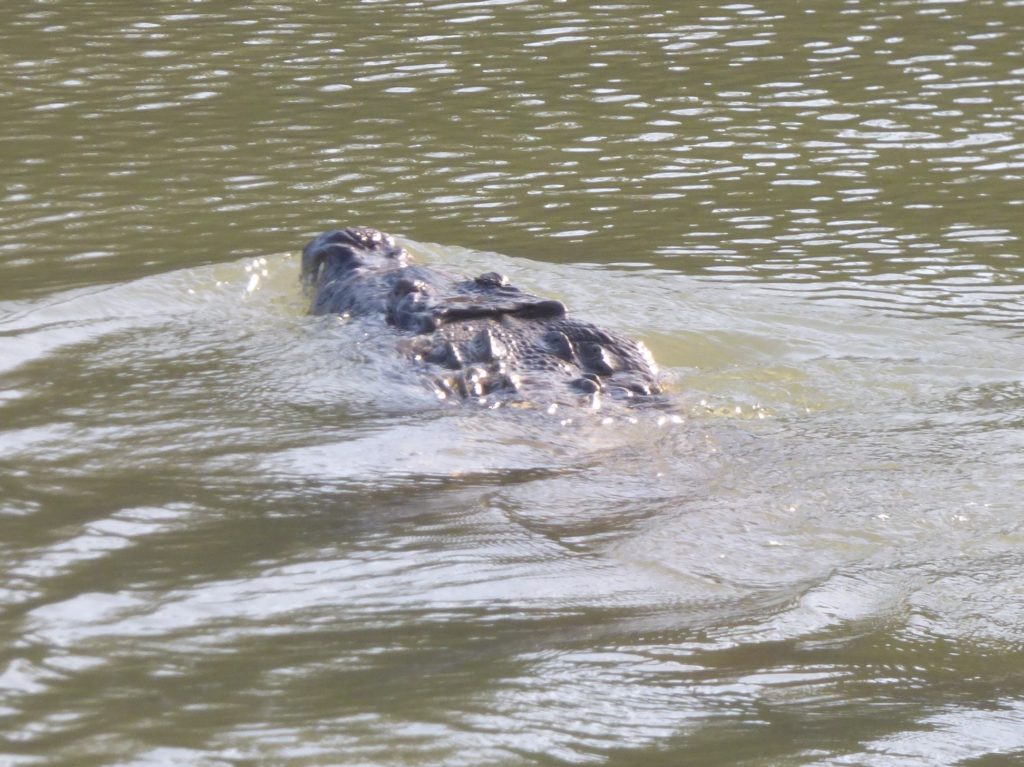 Laura came around the boat to offer coffee but obviously we were more interested in finishing off the last of Kirk's Balboa!
The lancha rushed out to say there were no moorings and the guy seemed almost annoyed when he realised an agent had booked a spot.
We were soon tied up and having a few beers to finish the day, and we were both feeling quite overcooked and overworked on the walk home around 18:30.